Prerequisites
Installed either GA Connector WordPress plugin or GA Connector script on your website:
<script

data-cfasync

=

"false"

type

=

"text/javascript"

src

=

"https://tracker.gaconnector.com/gaconnector.js"

>

</script>

<script>

function

setGaconnectorHiddenFields

(

)

{

var

gaFields

=

gaconnector

.

getCookieValues

(

)

;

for

(

var

fieldName

in

gaFields

)

{

var

selectors

=

'form input[name="'

+

fieldName

+

'"], form input#'

+

fieldName

+

', form input#field_'

+

fieldName

+

', form input[name="'

+

fieldName

.

toLowerCase

(

)

+

'"], form input#'

+

fieldName

.

toLowerCase

(

)

+

', form input#field_'

+

fieldName

.

toLowerCase

(

)

+

', input[value="gaconnector_'

+

fieldName

+

'"],'

;

selectors

+=

'form textarea[name="'

+

fieldName

+

'"], form textarea#'

+

fieldName

+

', form textarea#field_'

+

fieldName

+

', form textarea[name="'

+

fieldName

.

toLowerCase

(

)

+

'"], form textarea#'

+

fieldName

.

toLowerCase

(

)

+

', form textarea#field_'

+

fieldName

.

toLowerCase

(

)

+

', form textarea.'

+

fieldName

+

', form textarea[name="param['

+

fieldName

+

']"]'

+

", form textarea[id^='field_"

+

fieldName

+

"']"

;

var

inputs

=

document

.

querySelectorAll

(

selectors

)

;

if

(

inputs

===

null

)

{

continue

;

}

else

if

(

typeof

inputs

.

length

===

'undefined'

)

{

inputs

.

value

=

gaFields

[

fieldName

]

;

}

else

{

for

(

var

i

=

0

;

i

<

inputs

.

length

;

i

++

)

{

inputs

[

i

]

.

value

=

gaFields

[

fieldName

]

;

}

}

}

}

gaconnector

.

setCallback

(

setGaconnectorHiddenFields

)

;

setInterval

(

setGaconnectorHiddenFields

,

1000

)

;

</script>
Setting up the GA Connector Fields on Formstack Form Editor
Step 1
Click on the build section and add a Short Answer field on the form that you are editing
Step 2
Click on the newly created field and set the Field Label and Default Value to match the GA Connector field that you want to track. (e.g. gaconnector_all_traffic_sources). A full list of GA Connector fields and its equivalent ID can be found at the bottom of this page.
Step 3
Click on the Hidden checkbox so that the field that you've created is hidden on your form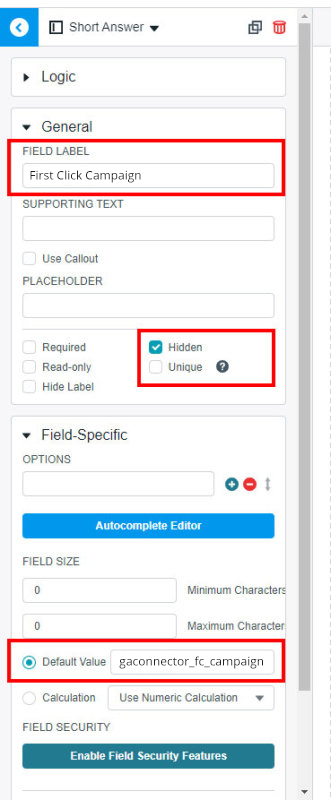 Step 4
Embed your form your website, if not already done.
Full list of GA Connector fields
| Label | Input ID | Label | Input ID |
| --- | --- | --- | --- |
| All Traffic Sources | gaconnector_all_traffic_sources | Last Click Campaign | gaconnector_lc_campaign |
| Browser | gaconnector_browser | Last Click Channel | gaconnector_lc_channel |
| City (from IP address) | gaconnector_city | Last Click Content | gaconnector_lc_content |
| Country (from IP address) | gaconnector_country | Last Click Landing Page | gaconnector_lc_landing |
| First Click Campaign | gaconnector_fc_campaign | Last Click Medium | gaconnector_lc_medium |
| First Click Channel | gaconnector_fc_channel | Last Click Referrer | gaconnector_lc_referrer |
| First Click Content | gaconnector_fc_content | Last Click Source | gaconnector_lc_source |
| First Click Landing Page | gaconnector_fc_landing | Last Click Term | gaconnector_lc_term |
| First Click Medium | gaconnector_fc_medium | Latitude | gaconnector_latitude |
| First Click Referrer | gaconnector_fc_referrer | Longitude | gaconnector_longitude |
| First Click Source | gaconnector_fc_source | Number of Website Visits | gaconnector_page_visits |
| First Click Term | gaconnector_fc_term | Operating System | gaconnector_OS |
| Google Analytics CID | gaconnector_GA_Client_ID | Pages Visited | gaconnector_pages_visited_list |
| Google Click Identifier | gaconnector_gclid | Time Spent on Website | gaconnector_time_passed |
| IP Address | gaconnector_ip_address | Time Zone | gaconnector_time_zone |
| Region | gaconnector_region | Device | gaconnector_device |