Prerequisites
These instructions assume that you have already created custom fields in your Agile CRM. (For information on how to create custom fields in Agile CRM, please refer to this link.)
Installed either GA Connector WordPress plugin or GA Connector script on your website:
<script

data-cfasync

=

"false"

type

=

"text/javascript"

src

=

"https://tracker.gaconnector.com/gaconnector.js"

>

</script>

<script>

function

setGaconnectorHiddenFields

(

)

{

var

gaFields

=

gaconnector

.

getCookieValues

(

)

;

for

(

var

fieldName

in

gaFields

)

{

var

selectors

=

'form input[name="'

+

fieldName

+

'"], form input#'

+

fieldName

+

', form input#field_'

+

fieldName

+

', form input[name="'

+

fieldName

.

toLowerCase

(

)

+

'"], form input#'

+

fieldName

.

toLowerCase

(

)

+

', form input#field_'

+

fieldName

.

toLowerCase

(

)

+

', input[value="gaconnector_'

+

fieldName

+

'"],'

;

selectors

+=

'form textarea[name="'

+

fieldName

+

'"], form textarea#'

+

fieldName

+

', form textarea#field_'

+

fieldName

+

', form textarea[name="'

+

fieldName

.

toLowerCase

(

)

+

'"], form textarea#'

+

fieldName

.

toLowerCase

(

)

+

', form textarea#field_'

+

fieldName

.

toLowerCase

(

)

+

', form textarea.'

+

fieldName

+

', form textarea[name="param['

+

fieldName

+

']"]'

+

", form textarea[id^='field_"

+

fieldName

+

"']"

;

var

inputs

=

document

.

querySelectorAll

(

selectors

)

;

if

(

inputs

===

null

)

{

continue

;

}

else

if

(

typeof

inputs

.

length

===

'undefined'

)

{

inputs

.

value

=

gaFields

[

fieldName

]

;

}

else

{

for

(

var

i

=

0

;

i

<

inputs

.

length

;

i

++

)

{

inputs

[

i

]

.

value

=

gaFields

[

fieldName

]

;

}

}

}

}

gaconnector

.

setCallback

(

setGaconnectorHiddenFields

)

;

setInterval

(

setGaconnectorHiddenFields

,

1000

)

;

</script>
Once you have installed the script on your website and have already created custom fields for GA Connector in your CRM, we'll need to set up your form so GA Connector will able to fill this with tracking information.
Set up GA Connector Fields on Form Builder
Step 1
On your Agile CRM dashboard, launch the Form Builder and select the form where you want to add the GA Connector fields.
To launch the Form Builder, go to Admin Settings > Integrations > Form Builder
Step 2
Add a hidden form on your form, set the ID to the equivalent input ID that is listed on the table below this page. (e.g. All Traffic Sources – all_traffic_sources, First Click Campaign – fc_campaign)
Set the Agile Field to the equivalent custom field that you have created.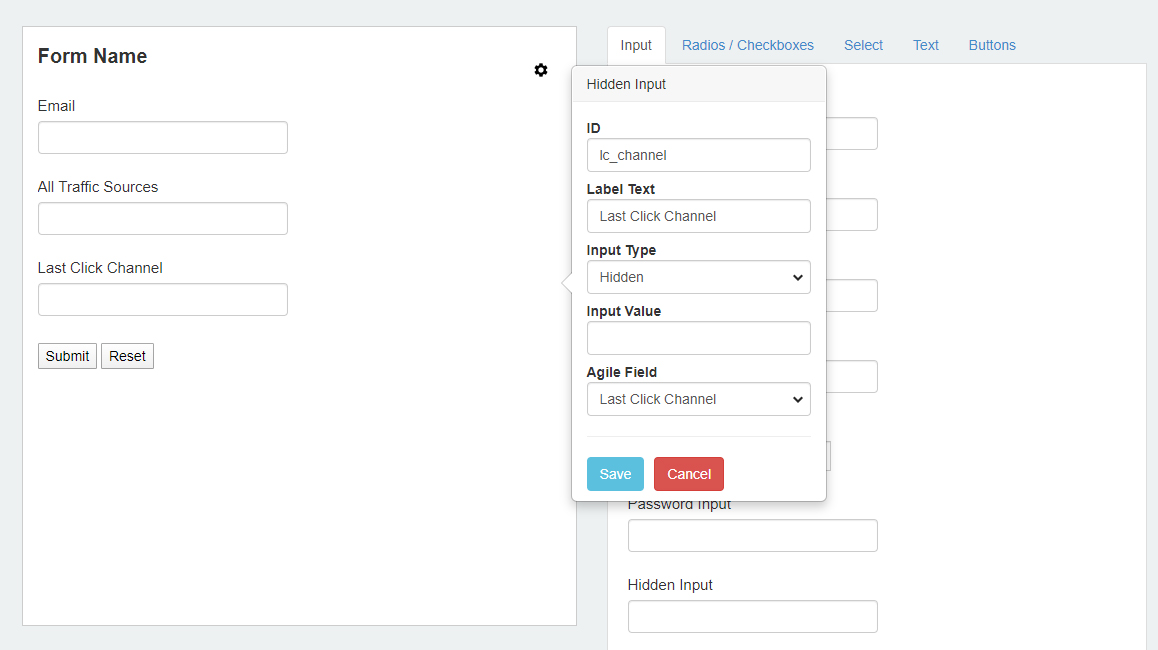 Step 3
Save Form and add it to your website.
Full list of GA Connector fields and equivalent Input IDs

| Label | Input ID | Label | Input ID |
| --- | --- | --- | --- |
| All Traffic Sources | all_traffic_sources | Last Click Campaign | lc_campaign |
| Browser | browser | Last Click Channel | lc_channel |
| City (from IP address) | city | Last Click Content | lc_content |
| Country (from IP address) | country | Last Click Landing Page | lc_landing |
| First Click Campaign | fc_campaign | Last Click Medium | lc_medium |
| First Click Channel | fc_channel | Last Click Referrer | lc_referrer |
| First Click Content | fc_content | Last Click Source | lc_source |
| First Click Landing Page | fc_landing | Last Click Term | lc_term |
| First Click Medium | fc_medium | Latitude | latitude |
| First Click Referrer | fc_referrer | Longitude | longitude |
| First Click Source | fc_source | Number of Website Visits | page_visits |
| First Click Term | fc_term | Operating System | OS |
| Google Analytics CID | GA_Client_ID | Pages Visited | pages_visited_list |
| Google Click Identifier | gclid | Time Spent on Website | time_passed |
| IP Address | ip_address | Time Zone | time_zone |
| Region | region | Device | device |